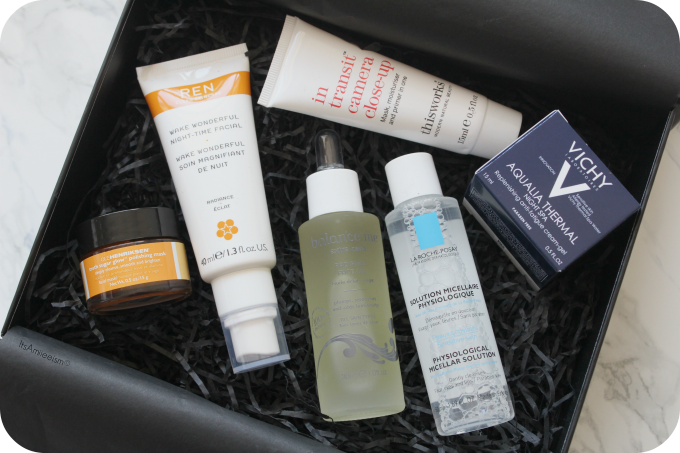 Considering the fact that this month is my birthday month and I haven't asked for anything in particular from my family, I've decided to do what I do best which is of course treat yo'self! As I have more than enough skincare for any normal person and a stash to rival even the likes of Caroline Hirons at times when I came across the

Feel Unique Skincare Superstars Beauty Box

, I instantly caved in and bought it! The box itself contains everything needed to give your skin some much needed TLC with some of the best complexion boosting products around and with a value of £87 at the bargain price of £30, you would be mad not to!
I'm a huge fan of La Roche Posay products and in particular the Effaclar Duo+ so with the box containing a decent sized sample of the Physiological Micellar Solution (£12) I was a very happy lady! It's essentially a micellar water to remove makeup and acts as your first cleanse however this particular one is suitable for even the most sensitive of complexions. The real test with this is if it can remove even waterproof makeup so if it does, I'm sold!
Next up is a full size Balance Me Radiance Face Oil (£30) which I've had on my list of products to try for the longest time! It's ideal for transforming dull, dehydrated skin into a radiant, dewy and glowing complexion which creating a perfectly even tone by calming areas prone to redness. I've been really getting back into my facial oils recently and have even started mixing them into my morning moisturiser to help make my skin appear more dewy so I'm excited to start giving this a go. This actually costs the same price as the box so everything else is just extra!
I've never tried the This Works In Transit Camera Close Up (£30) and I've heard nothing but good things about it so I'm really happy to see that it was included in the box. It acts as a mask, moisturiser and primer all in one so it's the perfect product to take away on holiday with especially when it's a long haul flight! I'm hoping that my skin loves this as much as everybody raves about as I could easily see myself buying this in full size!
Another addition to the box is the Vichy Aqualia Thermal Night Spa (£26.50) which as the name suggests is a night time moisturiser. It's enriched with hyaluronic acid, aquabioryl and Vichy Thermal Spa Water which provides intense hydration for the skin that looks visibly nourished and radiant come morning. I absolutely love using thick, rich creams at night as my skin feels naturally dehydrated no matter how many different serums/oils/creams I use so I'm hoping that this works a treat.
I appear to have acquired a few sample sized products from Ole Henriksen recently so I was excited to see the Truth Sugar Glow Polishing Mask (£38) included in the box. This contains sugar and pomegranate seeds to refine skin texture with honey to nourish, soften and sooth the skin with rose hips and pumpkin extracts to help naturally brighten and boost radiance. I love anything that helps add radiance back into my skin so I cannot wait to start using this!
Saving the best till last is a full size REN Wake Wonderful Night Time Facial (£32) which is an overnight transforming treatment that leaves skin visibly brighter, refined, more luminous and even toned come morning. I've tried quite a few of these kind of products and have always seen great results from them so I have high hopes for this and I'm hoping that this works wonders for my skin.