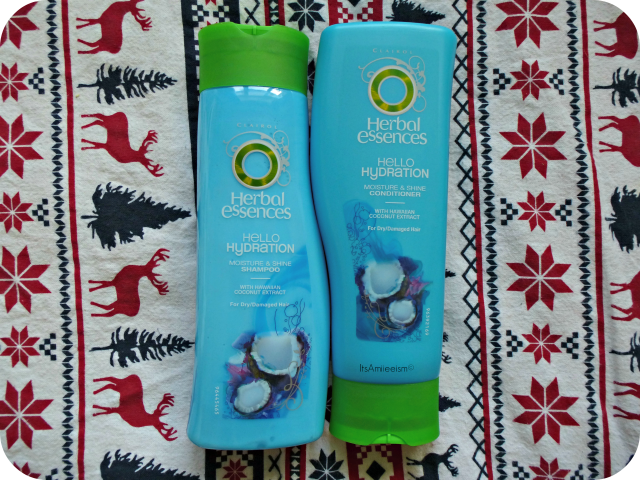 Just like with my skin, my hair has always felt slightly dry and I have to use quite a few products in order to keep it nourished and hydrated. Recently, I've been looking for a good shampoo and conditioner duo that will help keep my hair hydrated so I decided to try the Herbal Essences Hello Hydration range as it promises to keep hair moisturised and shiny.
The Herbal Essences Hello Hydration Shampoo

and

Conditioner (£3.99 each)

are a duo that helps keep your hair hydrated and shiny with a moisturising formula of hawaiian coconut extract which is suitable for even the most driest, damamged of hairs.
I will admit and say that after the first use, my hair felt incredibly soft and nourished without a single dry feeling strand in sight! However this was very short lived as after the second use, my hair felt exactly the same - slightly dry yet soft to the touch. I'm not entirely sure where I went wrong as I didn't do anything different to my hair or use any different products between washes but yet it still didn't leave my hair how it was after the first use. I've actually stopped using this duo altogether in favour of something more nourishing with better results so this will feature in a monthly empties albeit being half full. With that being said, this could work absolute wonders for you so it might be worth giving it a go with an open mind.