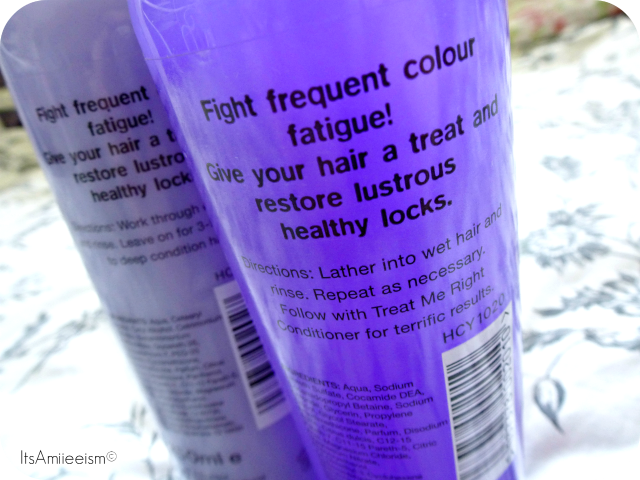 Many months ago, I went to Home Bargains to purchase the infamous

Re-Gen Cream

as well as a few other bits and pieces which included the Head Candy Treat Me Right Shampoo & Conditioner which I put straight into a drawer and forget about. It wasn't until I had finished my beloved

Organix Macadamia Oil Shampoo & Conditioner

that I realised I didn't have any shampoo and conditioner until I remembered about this duo.
The Head Candy Treat Me Right Shampoo & Conditioner is a duo aimed for bleached/colour treated hair to restore the hair back to it's lustrous, healthy state. At the time when I bought this duo, I had blonde hair but seeing as I now have brunette hair again, I thought that I better use these just for the sake of using them. The scent of these remind me a little of Herbal Essences but just a lot more chemically with a cheap scent to mask it.
I personally wouldn't say that this duo is the best out there nor would I say that it is the worse as it does an okay job. They both lather up quite well so I know that whilst I'm massaging each one in that it's doing the trick at keeping my hair clean. I find that if I use a little too much conditioner, it can leave my hair feeling rather dry and stripped of its essential oils which gives that squeaky clean feeling which I don't personally like. However all that can be fixed with a little hair oil.
I don't remember how much I paid for this duo as sadly it was a long time ago and I can't find my receipt. However I do know that it was definitely less than £2 a bottle from Home Bargains. If anybody does know how much these are each, please let me know so that I can update this!