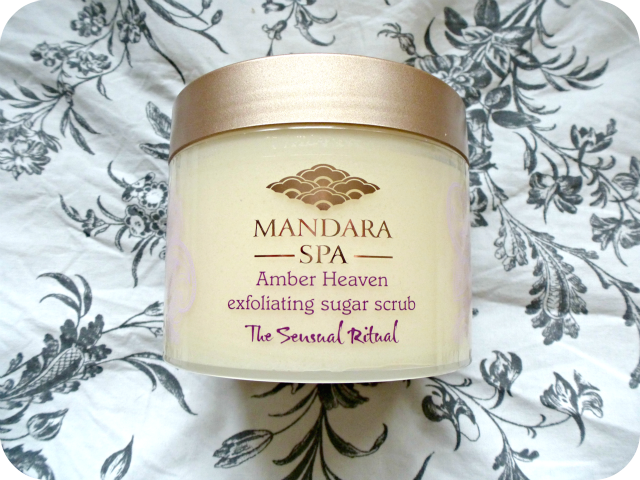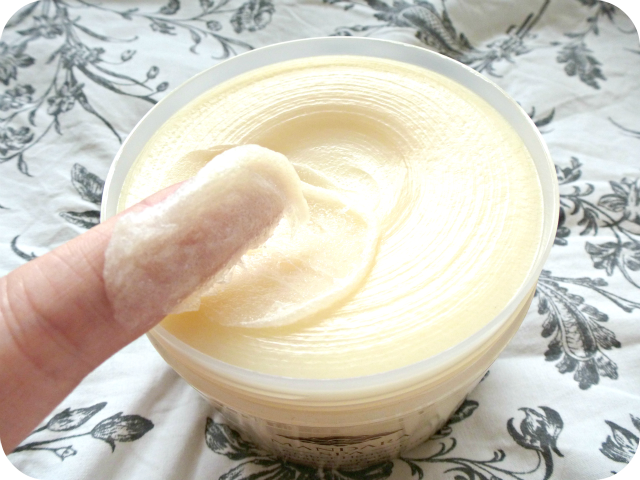 The Mandara Spa Amber Heaven Exfoliating Sugar Scrub is a product that I only started reaching for last week as I had treated myself to a fake tan as I was going to a Wedding Reception over the weekend. On first glances, it looks like a very rich body butter which melts when it comes into contact with your skin. However, it contains very fine granules of sugar which help to exfoliate your skin much like the name of this suggests. To say that this smells good is an understatement as it smells so delicious that I simply cannot put my name onto what it smells like. But looking at it's description, it's a blend of sandalwood and patchouli which gives it it's very luxurious scent.
A little goes a long way with this as you only need a small amount to exfoliate your skin with so I can definitely see this 450g lasting for atleast a year. When teamed with a shower puff, it helps to exfoliate your skin more and leaves your skin feeling ultra soft due to the moisturising shea butter which is what gives the Sugar Scrub its' body butter appearance. A bonus of this is that the scent lingers on your skin well after you've used it. I can easily see my Dads' partner using this as well so I'm sure I'll buy her a tub of this herself as at £10.50, it's hardly going to break the bank when it's going to last for absolutely ages.
A quick google search shows that it's available from

Sainsburys

of all places and

Time To Spa

which has free shipping.
*